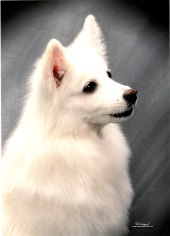 The compound is quiet these days – quieter than it has been in years. We lost the senior member of our protective unit, Senior Special Agent Cherokee (retired) on 6 May 13. She went out like a trooper, strong and in charge until the end when Rev. handed Cherokee's spirit over to our angelic agent at Rainbow Bridge, Special Agent Shirley. I was in the room when the chain of custody took place, and it was the most peaceful moment I have ever seen.
But back at the compound things are kind of confusing. Even though she was old and retired, I had no idea of everything she still kept track of. Sounds outside – sounds inside – I never realized how noisy the house was. Strange clicks from the furnace. People dropping off bottles of white and brown liquid in the middle of the night. Should I bark? Should I observe?Should I send out a surveillance team? What would Cherokee do (WWCD)? I don't remember her sounding an alarm at zero dark thirty. Or did I just sleep through it? It is so confusing.
Supervisory Agent Ruach says to chill – if anything was wrong the Rev. would take care of it. But I'm suppose to take care of the Rev. I feel I'm spread too thin. Sappers are going to get through the lines. Maybe we need reinforcements – another set of eyes and ears at the gate.
When our visiting strategist, Rebecca came to meet with us to do an after-action report, I could feel Cherokee's spirit again. A calm settled over me. But dang it,she doesn't stay. We have to learn how to deal with the draw-down of troops. I don't want to be in charge of anything – the compound and the Rev. We need to come up with a better battle plan.
We will soldier on – might need to get creative. I for one will never forget our fallen comrade – 21 guns to you Cherokee. We'll rendezvous at the Bridge.