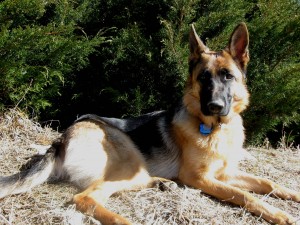 It's Friday – kind of cool out – and the end of a long, long week. It started last weekend as the Rev tried to get another German Shepherd Dog to serve as a young Marine's Service Dog. Unfortunately it tanked and I've been putting together an after-action report to figure out what caused the big SNAFU so I can make sure it doesn't happen again.
Advanced Scouting and Training – it's all in the Advanced Scouting and Training. The domicile where the dog was going to bunk down had not been fully reconnoitered. It was noted about the feline inhabitant but the terrain that the dog needed to negotiate before entering its new domain had not even been thought about. STAIRS – nobody had thought about the bloomin' stairs.
Now it shouldn't have been a problem. But the novice canine recruit was a bit unsure of herself as was her rookie handler and things just went downhill from there. Disaster.
So the canine recruit had to be washed back for more intensive training and a big lesson was learned. Advanced Scouting and Training – nothing beats it when going into a new situ. Must keep reminding the Rev about this. Just because I excel at reading new situations doesn't mean other canine recruits can. Over enthusiasm and rapid deployment are not always the keys to a successful mission. Well, this is Special Agent Arkeo signing off – keep your four paws on the ground and we'll see you 'round the kennel.